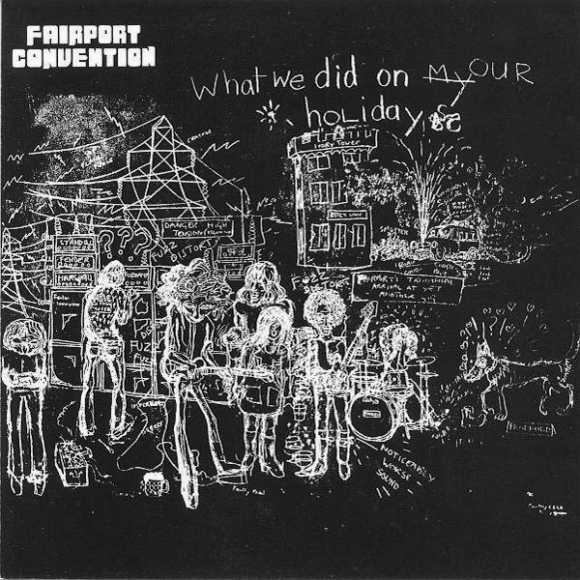 As we enter the New Year, the Stonehenge crew has a new resolution we want to share with you: in celebration of the 40th anniversary year of so many wonderful albums released in 1969, each classic rock album this year will be celebrating it's 40th birthday, as close to the week of release as possible! To begin the year in style, we played one of my favorite Fairport Convention LP's, their second LP, and the first with Sandy Denny - 'What we did on our Holidays'.
I feel that Fairport was about as close as the UK got to the Byrds: both bands even had their own indigenous folk music revelations with 'Liege and Leif' and 'Sweetheart of the Rodeo'. 'What we did on our Holidays' is the UK's '5th Dimension'.
There is a dearth of video from this period of the band's history, but here's a great Dylan cover from this excellent LP to sample. Dylan cover? That reminds me of a certain US band...
Artist - Album -- Song
The Oxford Circle - Love is the Song we Sing -- Foolish Woman
Steve Miller Band - Children of the Future -- Children of the Future
Public Nuisance - Love is the Song we Sing -- America
Blue Cheer - Vincebus Eruptum -- Doctor Please
The Savage Resurrection - The Savage Resurrection -- Thing in "E"
Audience - Audience -- Heaven was an Island
McPhee - McPhee -- Indian Rope Man
13th Floor Elevators - Easter Everywhere -- Slip Inside This House
Can - Monster Movie -- Outside my Door
Jeff Beck - Beck-Ola -- Spanish Boots
The Illusion - If It's So -- Man
McCoys - Human Ball -- Human Ball Blues
Vanilla Fudge - Best Of -- Shotgun (single)
Chocolate Watch Band - No Way -- No Way Out
Soft Machine - Vol. 1 -- Save Yourself
The Byrds - Younger than Yesterday -- Thoughts and Words
Small Faces - Small Faces -- Talk to You
Love - De Capo -- She Comes in Colors
Moby Grape - Wow --- Can't be so Bad
The Monkees - Head -- Circle Sky
The Electric Flag - You are what you eat -- Freak Out
Procol Harum - Procol Harum -- Kaleidoscope
Kevin Ayers - Joy of a Toy -- Singing a Song in the Morning
Arthur Brown - Crazy World of Arthur Brown -- Prelude / Nightmare
Five Day Week Straw People - Five Day Week Straw People -- Car Wash
Atomic Rooster - Atomic Rooster -- Before Tomorrow
Hard Stuff - Bolex Dementia -- Bolex Dementia
Emerson Lake & Palmer - Trilogy -- Trilogy
Moody Blues - In Search of the Lost Chord -- Departure / Ride My See Saw
Graham Bond Organization - We Put Our Majick on You -- Ajama
Crack the Sky - Live Sky -- She's a Dancer
Happy the Man - Happy the Man -- Stumpy meets the firecracker in Stencil Forest
Gentle Giant - Civilian -- Convenience
Camel - Rain Songs -- Metrognome
Eric Clapton - Eric Clapton -- Let it Rain
Delaney & Bonnie & Friends - On Tour with Eric Clapton -- Only You Know and I Know
Delaney & Bonnie - To Bonnie from Delaney -- Soul Shake
Delaney & Bonnie - D & B Together -- Coming Home
Delaney & Bonnie & Friends -- On Tour with Eric Clapton -- I don't want to discuss it
Delaney & Bonnie - D & B Together -- Sound of the City
Delaney & Bonnie & Friends - On Tour with Eric Clapton -- Where there's a will there's a way